Eddie's Story
In Memory of Eddie Geiger
June 23rd, 1984 – November 6th, 2009
Eddie Geiger, 25, of Havertown, a student-athlete who played lacrosse at Haverford School and Neumann University, passed away on November 6, 2009 after a second and lengthy fight with cancer. Eddie first was diagnosed with Ewing's sarcoma, a rare bone cancer that attack his right arm, in 1995 at the age of 11. After the original diagnosis, doctors said Geiger would probably die without an amputation. He underwent chemotherapy and radiation treatments and then – in the first surgery of its kind - doctors at Memorial Sloan-Kettering Cancer Center in New York removed his cancerous humerus bone and attached his lower arm to his shoulder. The surgery left Eddie with a shortened right arm. He was not allowed to play football anymore, but doctors did allow him to play lacrosse.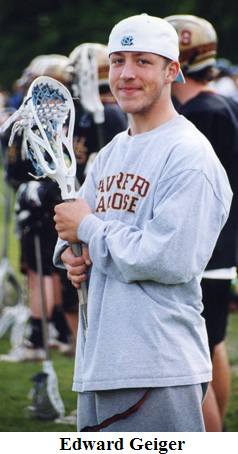 A natural right-hander, Eddie taught himself to write with both hands. He continued to play sports and played two years of varsity lacrosse as an attackman under coach John Nostrant at Haverford School. His senior year he received the Most Valuable Player Award from Eagles Fly for Leukemia, which supports pediatric cancer and leukemia research. Eddie also played two years of lacrosse at the University of New Haven in Connecticut and then at Neumann University in Aston, PA.
Andrew Bailey, who attended Haverford School with Eddie for 13 years said his good friend was a role model for all by handling his disease with courage and grace. "Eddie was a heck of an athlete," Bailey said. "For him to go through that and come back and be able to play that well was an inspiration to us all. He did that despite having chemo and fighting cancer." Nostrant, also a cancer survivor, said Eddie was a great Wings fan and would come to games when he played for the team. "He was always smiling," said Nostrant. "He never had a bad day. This is sad, but I would say one thing: He lived a full life!"
In the summer of 2007, it was learned that the cancer returned; this time it had reached the lungs and the prognosis was grim. Still, Eddie continued to stay positive and fight hard. "It was an emotional time," said Bailey. "For 11, 12 years he was free of cancer. Then on a routine checkup they find it comes back and has spread to his lungs. It was absolutely devastating. "I will say that without a doubt everyone knew he would fight it. He battled it for 2 years."
Bailey recalls that Eddie, despite his condition, played in the Haverford alumni lacrosse game in 2008. "I remember seeing Eddie Geiger walking onto field with all his stuff after all those treatments," Bailey said. "He came suited up and he played 'That was incredibly special for me. A lot of former teammates were there. He ran a couple shifts…"
"He was absolutely an inspiration to everyone in the Class of 2002," Bailey said. "Everyone Eddie touched, he made a better person." Eddie is survived by his father, Edward Sr., his mother, Kathleen, and a brother, Bryan."
There are no events at this time.