Mourning the Passing of a Lacrosse 'Ambassador'
By Chris Goldberg, Phillylacrosse.com, 3/20/2011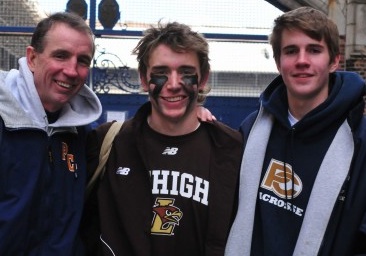 The lacrosse community is mourning the death of Dan Carr, Sr., 51, a popular Philadelphia lacrosse supporter and volunteer coach who passed away Friday at his Warminster home after a lengthy battle with brain cancer. Carr, who is shown in the picture with sons Dan Jr. and Shane, was called a "true ambassador for the game," by family member J.P. Banks. Carr had served as a volunteer coach for Penn Charter School in its fall and winter seasons and also assisted on a volunteer basis for the LB3 and Braveheart club programs.
Mr. Carr was diagnosed over 2 years ago. To assist in his battle, family members created a website called the "Dan Carr Fund to Fight Brain Cancer," and last fall he was made benefactor for the first evening of competition at the Philly Showcase, a major recruiting event. Though Mr. Carr never served as a head coach or played the sport, he was known throughout the community as an avid fan who would encourage boys to play the sport. One of his sons, Dan Jr., starred as a goalie at Penn Charter and now starts for Lehigh University. His other son, Shane, is a junior standout at Penn Charter.
Last fall, Penn Charter players launched a project to raise money for the Dan Carr Fund called "Score for the Cure." Joey Sankey, one of the project organizers, said $3,000 has been raised and the team is committed to continue the project in his memory all year. "Dan was rare in that he wasn't a coach or a great player and yet he was known so well throughout the lacrosse community for his passion of the game and love of the sport," said Banks. "He did all these things to help the sport, but never wanted to be recognized or given credit.
"He was a giver, a true giver. We all knew about what kind of a compassionate and selfless person he was, but in these last few days we have heard even more stories about his ability to give. We didn't even know the extent of the way he refused to take any credit."
Both Banks and Sankey noted that Mr. Carr would never call himself a victim despite his illness. "I first met him when I began playing in the Warrington youth lacrosse league in 4th grade with his sons, and he was so passionate and so positive," said Sankey, an All-American who will play at North Carolina next year.
"He was the most positive guy I ever met. Even with his disease, he was so positive and never made us think he was sick. He would help out in fall ball season and he instilled so much confidence in me. He was the first one that told me I was good enough to play Division I lacrosse. He is the type of person I wish to emulate."
Sankey said the team is selling t-shirts and wrist bands as well as sponsorships to raise money for "Score for the Cure." Banks said that Carr also was known as a family man whose love of his wife, Bernadette and sons, Dan and Shane, was evident to all. Penn Charter and Braveheart coach Pat McDonough said Mr. Carr "was a giver who gave and gave and gave. He would do anything for his sons and he would do anything for anyone."