Craig's Story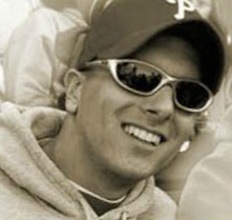 Craig Anderson was 20 years old and going into his junior year at Elizabethtown College when he was diagnosed with testicular cancer. That was on July 24, 2006. He had been working on a golf course and caddying that summer. The back pain he was feeling he thought was a result of lifting a very heavy golf bag. That back pain became groin pain a day or two later. After talking to the doctor, Craig went to the ER thinking he may have been experiencing appendicitis. It was testicular cancer. The radical orchiectomy was scheduled for the very next day. Unfortunately, by the time Craig's cancer was diagnosed, the cancer had already spread to his abdomen and chest. The way the cancer had spread also caused blood clot complications in Craig's vena cava. He took a medical leave of absence from E-town to begin chemotherapy. After 4 cycles of BEP chemotherapy, test results showed the cancer was not gone. So in December 2006, Craig began two rounds of TIP chemo followed by two cycles of high-dose chemo and two stem cell transplants. The stem cell transplants were successful.
In the spring of 2007, Craig had RPLND surgery at Memorial Sloan-Kettering in NYC to remove the affected lymph nodes, the mass in his abdomen and his left kidney, which was entangled with the cancer. Following this recovery, in June he headed back to Sloan-Kettering for lung surgery. He had approximately 12 nodules removed from his left lung. In March 2008, Craig learned the cancer had spread to his brain. The tumor had hemorrhaged causing Craig to experience some speech difficulty and weakness on his left side. He was hospitalized immediately and brain surgery was scheduled. The surgery went well and the tumor was successfully removed.
Once released from the hospital, Craig began physical and occupational therapies. The strength in his left side returned within a couple of day, his speech was normal and things were really looking up. By June 2008, the cancer had returned to Craig's lungs. By November, test results showed the chemo was not working and that new tumors had formed in Craig's brain – four in total.
He would need whole brain radiation as surgery was not an option. He would be treated every day for the next three weeks. Once he finished, he still had time to recover and get back to school for the new semester in January. It wasn't to be. Craig needed more chemo; he did it for another cycle; it didn't work. The cancer on his lungs had aggressively spread throughout his chest while he was on chemo. Craig was taken off the chemo as there weren't any treatment options left. Craig spent a week at Penn Hospice at Rittenhouse to get his pain under control. On January 21, 2009, Elizabethtown College awarded Craig with his Bachelor of Science Degree in Elementary Education. Several days later, Craig was able to go home for a week and a half before returning to Rittenhouse. He lost his battle with testicular cancer on Tuesday, February 3, 2009. He was 22 years old.